KITES: FESTIVALS AND BATTLES
ALL WITH THE NOSE UP!
Author: Marica Moda 
We are kiters. We love to see our kites flying, coloring the sky; that is why I want to talk to you about other equally spectacular kites flying in the air showing all their beauty!
I'm talking about the kite festivals that show kites of all shapes and sizes, from the smallest and tenderest that touch the sand to the really huge ones that leave you literally open-mouthed and nose upwards. Other very spectacular kites are those that compete in kite battles, during which pilots showcase all their technical and strategic skills to bring down their opponents.
"The optimist pleasantly ponders how high his kite will fly; the pessimist woefully wonders how soon his kite will fall." - William Arthur Ward 
The kite has a millenary history behind it; it was born in China more than 2500 years ago for religious and spiritual purposes, as an object capable of creating a connection between man and sky. Brought by Buddhist monks to Japan, kite decorations became real works of art, and they were adorned with symbols of good luck and legendary characters. When the Dutch merchants brought it to Europe at the beginning of 1500 CE the kite began to change purpose. It was used for scientific and research purposes, in military contexts as a means of communication for coded signals or delivery of messages, and for rescue efforts as a means of lifting or towing—until you get to its technological version, the drone.
With the passing of time, the kite has been transformed into a pleasant recreational activity adopted primarily by the imperial courts. Now, the kite is celebrated with events that show its spectacularity. What many see as  a simple object attached to an almost invisible thread, it becomes a work of art, a symbol of cultural and temporal connection, of happiness, victory, and rebirth, thanks to its now close relationship with the concept of environmental sustainability—a topic that must inevitably and necessarily be dealt with on a daily basis!
Thousands of fans of this ancient object with magical appearances, a symbol of freedom and peace, come together to celebrate it on the windiest beaches around the world. During these days, you can admire a kite's artistic, ethnic, historical, background as well as diversity of size. There are exhibitions of acrobatic flight to the rhythm of music, multidisciplinary performances, demonstrations of Kite Aerial Photography (aerial photography with kites), educational workshops, and even fights that are part of real international championships.
"Don't be afraid of opposition. Remember, a kite rises against, not with, the wind." - Hamilton Wright Mabie
Kite Festivals 
Fuerteventura International Kite Festival - Canary Islands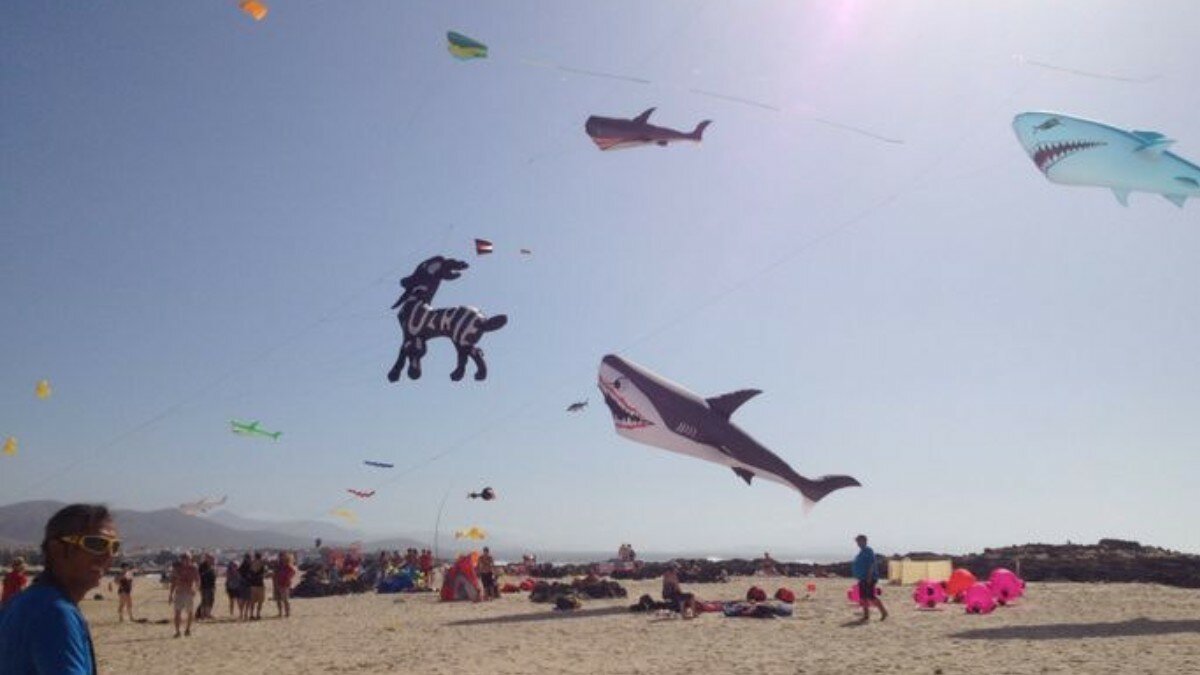 In 2017, I was at the Fuerteventura International Kite Festival - Canary Islands. It was three days of fun, color, and wind, which is celebrated in November each year simultaneously in two spots: Playa del Burro, a beach located in the Corralejo Dunes Natural Park in the northeast of the island, and Playa de la Concha in El Cotillo, in the northwest of the island.
Since 1987, the beauty of this event has attracted more and more people from all over the world, turning it into an international festival that welcomes up to  200 exhibitors called "kite makers." There is also an exclusive club, "The Fuerteventura Kite Family," which includes the people who have participated with their kites in all the editions from 1987 until today.
The first day is called "free fly," during which everyone is invited to participate and fly their own kites. 
On the second day, pilots show off their skills in crafting and flying their kites. There is also a night exhibition. 
On the last day, more than 100 kites are given to the children. There is a battle between kites, where the one that can stay in the air wins, and prizes are awarded to all participants.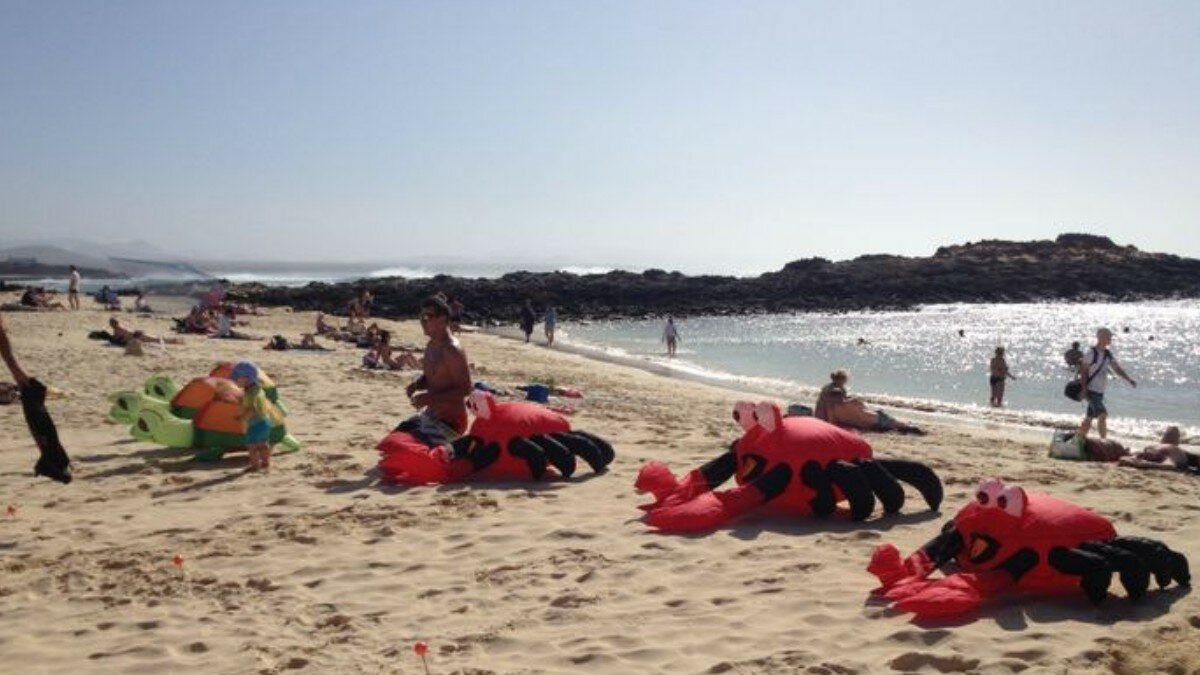 Many people who have enjoyed this festival end up coming back every year, because the variety of shapes and colors of kites is truly amazing, their charm is mesmerizing, and everyone comes back with child-like excitement—!noses up, mouths open, and a rapturous smile!
My favorites were the crabs moving on the beach, the giant octopus that seemed to swim in the wind moving its very long tentacles, and the cute food chain where the smallest fish was followed by a bigger fish, followed by an even bigger fish, and so on until we reached the top of the chain with a huge shark! Fantastic!
"I believe a man never stops being a child and follows flying kites all his life." - Romano Battaglia
Artevento - Italy
In Italy, ArteVento (a creative cultural enterprise) will celebrate its 40th anniversary in 2022 with the motto "we are the rainbow," paying homage to the heterogeneity of an international community. The festival has made Cervia the "kite capital of the world." This festival strengthens its environmental vocation and promotes a model of rebirth in the name of sustainable creativity.
International Kite Festival in Gujarat - India
In India in 2012, the International Kite Festival in Gujarat attempted to enter the Guinness Book of World Records for its 42-country participation rate! This festival is considered one of the biggest festivals in India with an interesting symbolic value,as it marks the day when winter begins to turn into summer—one of the most important days of the year for the Indian calendar. Residents flock to the roofs of their houses and from there lead their kites, prepared many months before, resulting in thousands of colorful kites decorating the sky.
Washington State International Festival - United States
The United States is home to the WSIKF - Washington State International Kite Festival, a week-long celebration and kite competition held annually during the third week of August on Long Beach in Washington State. This festival celebrates the kite extravaganza and boasts fiery skies of color, flying action, and choreographed movements. It attracts famous kite flyers worldwide and tens of thousands of spectators, many of whom participate in the fun with their own kites. 
"True courage is like a kite; a contrary wind raises it higher." - John Petit-Senn
Kite Battles 
Kite Fights
Kite fighting is a real sport. It is a very important sport in many countries, practiced mainly in Afghanistan, Bangladesh, Pakistan, India, Nepal, Vietnam, Korea, and Brazil's favelas.
Here the kite is experienced by all, young and old, as a sense of freedom, a healthy escape, and a moment in which there is equity—where anyone with a few cents can create with their hands their own kite, fight, and (possibly) win.
Kite Battles in Brazil
In Brazil, flying kites (also known as "pipas") is more than a pleasant escape from the harsh daily routine—it is a true form of playful combat. The sky is the arena in which they fight, and all participants are equal. 
All you need is a bit of wire and some wax to make the kite stronger, a rod to create the structure, a rectangle of paper or plastic (like shopping bags), and a bit of glue to participate with your kite. The goal is to take down your opponent's kite by cutting it off or hitting it, each participant positioned on their rooftop. One rule of battle remains constant: cut the other kite's line and don't get cut. Real challenges are created between neighborhoods and pilots, but for once they are healthy, cheerful battles that don't produce much damage. The designs of the "pipas" and the aerial strategies to cut the opponent's line are passed down from roof to roof and from generation to generation.
Kite Battles in Japan
Rokkakuhj battles have over 400 years of history. 
The Rokkaku Dako is a traditional Japanese kite made with bamboo sticks and "washi" paper, in the shape of a vertically elongated hexagon. They can get up to 2.5 meters high and are often hand-painted with the faces of famous Samurai. They are true works of art. About 12 kites are launched simultaneously, and the kite or kite line is used to cut through opponents' lines by knocking them down. It is a fun, challenging sport with great spectators, where even those watching get excited and cheer.
300 km west of Tokyo, in the heart of Japan's Niigata prefecture, lies Shirone with its own unique annual festival. For over three centuries, at the beginning of June each year, the annual Battle of the Giant Kites has been held here. The festival is also known as "Tako-Kichi Matsuri." Tako means "octopus" in Japanese, but it also means "kite." Kichi means "crazy,"and Matsuri means "festival," making this event, literally speaking, the "crazy kite festival." People travel from all over the world to see it because the participants' teamwork and competitive spirit make this kite battle a really exciting event to watch.
"Kites rise highest against the wind - not with it." - Winston Churchill
Kite Battles in the United States
In modern American fighting, synthetic materials such as nylon, carbon fiber, and polyester are used to build kites. The purpose of the battles is not only to cut the lines of one's opponents while remaining victorious and unique in the air, but also to hit and capture them!
The AKA - American Kitefliers Association is the body that regulates these battles. Fighting kites are maneuverable with a single line and are small and flat. Traditionally, the line of conduction was abrasive (line in Manja), but because of the dangers of cutting in which pilots could incur, many countries have banned its use, opting for "line touch" for combat instead.
Kite Battles in Europe
In Europe, there are formal, competition rules for fighting. They follow the directives of STACK - Stunt Team And Competitive Kiting, an official body that can validate a competition for international purposes and regulate the competitions of aerobatic kites.
A flying field is established with a measure fixed by the regulation in which pilots and kites must remain (under penalty of disqualification)!
The minimum and maximum wind range is established beyond which the test is suspended (for this reason, the pilot can ask for a "wind check" even during the competition). It is established which kites will fight (2 or 4 wires) and the competitors are divided according to categories (singles, pairs, or teams).
The pilot can never drop the pilot handles; he must always have total control of the kite in every condition—a basic rule for safety. The pilot has the right to a helper in the field who assists them in the performance. They are the only person outside of the pilot who can touch the kite, position it on the flying field, put it back in the air if it falls, and make minor repairs during the competition if needed.
The start of the test must be authorized by the judge and confirmed by the pilot with the word "IN!" At the end of the test, the pilot must declare "OUT!"
There are three tests that pilots have to complete:
Obligatory: geometric paths to be flown in the sky in the "wind window," a sort of imaginary rectangle in front of the pilot within which the kite must fly. 3 out of 5 courses are drawn, and all pilots must execute the course as precisely as possible, demonstrating their mastery in the conduct of the kite.
Freestyle Routine: the pilot presents his technical-acrobatic-choreographic demonstration, with technical and complex acrobatic figures and beautiful choreography.
Ballet: the technique is creativity-focused in a spectacular demonstration, creating a real ballet in time with the music and incorporating figures that interpret the musical piece chosen by the pilot in an established time.
The judges will make their evaluations to determine the rankings, but there is no denying that they will also consider the "wow" effect. An effective routine draws the audience into exclamations of excitement and applause.
There are festivals worldwide because the kite has a charm that knows no bounds or social limits, entertains everyone, and engenders the imaginations of both young and old onlookers and participants alike. Look for the one closest to your home.You will not regret it!