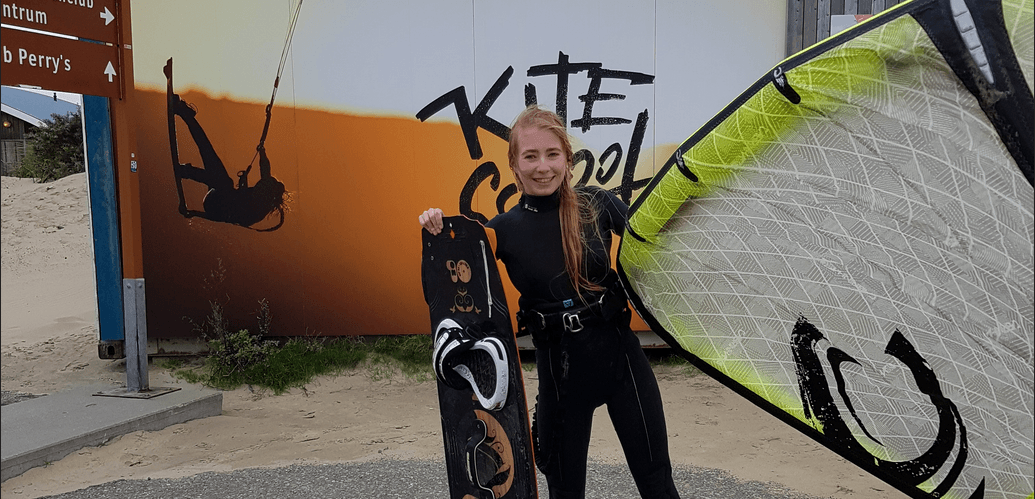 How to Choose the Best Wetsuit for Kitesurfing
Author: Kristin Vincenzo
Yet another piece of gear for kitesurfing? Yes. And here's why...
You're finally an independent kiter! Congratulations! You're past that awkward beginner stage, and now you're truly enjoying the sport. As kiting gets easier for you, your sessions are getting longer and you're making progress each time you get on the water. You're officially hooked, and you're starting to realize that kitesurfing isn't going to be just a summer activity for you. You might need to kitesurf in non-summer, cold water conditions in order to get your wind fix. 
If you're feeling this way, you're a kitesurfer! And now it's time to get your next piece of kitesurfing equipment -- a good wetsuit. You might need more than one.
We know what you're thinking. "I need yet another piece of equipment for this sport?" The answer is yes. Because regardless of where you kite in the world, a wetsuit is a mandatory piece of equipment for every kitesurfer. Whether you're wearing a wetsuit to keep warm in cold waters or for protection from sun exposure, you need a good wetsuit if you're planning on kiting throughout the year. If you're not sure how to shop for a wetsuit, don't worry. We have you covered. Keep reading!
Temperature Guide for Wetsuit Thickness
You need a wetsuit that is appropriate for the water temperature that you're kiting. During the warmer seasons, you might prefer a shorty wetsuit (a suit that covers your thighs but not calves) to keep the sun off your neck and back and arms (shorty wetsuits come in long and short sleeve). In the warmer waters you probably only need a 1mm or 2mm wetsuit. But as your summer turns into fall and then winter, you're going to need a thicker suit to keep warm in colder water. Not only will a thicker wetsuit fight off hypothermia in extreme situations, it will keep you comfortable and allow for longer sessions in the colder waters. Remember, you're going to have to deal with wind chill, not just water chill, so the added thickness really helps to keep you warm when you're not in the water.
Only you can decide how thick of a wetsuit you need for your own cold water tolerance, but O'Neill Wetsuits made this handy chart to give you an idea of what thickness you'll need for different conditions. View the chart on O'Neill's website here. 
Not All Wetsuits Are Created For Kitesurfing
If you came to kitesurfing from a non-wind water sport like surfing or diving and want to use your current wetsuit, you're probably not using the best suit for kiting. Sure...any wetsuit is better than no wetsuit, but there are some specific reasons to buy a wetsuit made for kitesurfing and windsurfing.
We learned from Mystic Waterwear that one of the biggest differences between a wetsuit made for kitesurfing is the use of nylon one-sided -- aka "smooth skin" -- material in strategically placed positions on the body. The smooth skin neoprene material actually sheds water better than the nylon two-sided neoprene used for most traditional surfing suits. This is especially important for kiters who spend more time out of the water than in it. After a crash, you want your wetsuit to shed the water so that it doesn't make you that much colder when you're cruising along in 20 knot winds. (Imagine how much colder your hands are when you're wearing wet gloves while skiing. The same thing applies here.) 
Like traditional surfing wetsuits, kiteboarding specific wetsuits come in a range of quality as well. Most higher-end (and more expensive) kitesurfing wetsuits are more flexible, which allows for greater range of motion. Many also have velcro ankle straps and perforated drainage ports in the ankle to prevent pooling of water around the ankle after a fall or a long swim. Remember, neoprene is waterproof. The only way that water gets into a suit is through the openings -- the neck, wrists and ankles, and the perforated drainage ports are really helpful for reducing the amount of water in your wetsuit. 
How to Care For Your Wetsuit 
Some kitesurfers think that a fresh water rinse is enough care for a wetsuit, but if you're going to invest in a high-quality suit, you really should consider washing the suit with soap made for neoprene and other waterwear material. Like any other "suit" in your closet, a wetsuit needs special care to prolong the life of the material and avoid an unpleasant smell caused by bacteria and salt buildup. There are some great products out there, both "natural" and industrial. Just make sure the soap is made for neoprene, or is at least a mild soap, so it's not too harsh on the material. 
NeilPryde, has these helpful additional tips for wetsuit care:
Keep the suit out of direct sunlight whenever possible. This includes during drying after use.

Drip dry only. Do not use heat to dry the suit (i.e. no tumble dryers, heaters, radiators etc.)

Store your suit in a cool, dark place when not in use. Suits are best stored hung (to their full length) on a wide wood / plastic hanger or rolled. Folding / creasing suits can cause the neoprene to compress and distort. 

Avoid contact with sharp / abrasive surfaces (board grip, hooks, fins etc.). These can affect the stitched seams and certain types of outer jersey.
It's Time to Get You Wet-Suited Up!
Kiteboarding wetsuits come in a variety of styles (front zip, back zip, no zip). We recommend that you try on a wetsuit before buying it. As with most things, you get what you pay for with a kitesurfing wetsuit. The more expensive models tend to be more flexible, which can make a huge difference when it comes to comfort in and out of the water. Durability of a wetsuit is also a factor in a more expensive suit, but wetsuit care can really extend the life of your suit as well.
If you're lucky enough to live in a place that never gets cold enough to need more than a shorty wetsuit, you may still want to get a neoprene hoody or neoprene 1mm top to cover yourself for those cold front days. A neoprene hoody is also great for cold water kiters who need an extra layer of warmth around their core, but don't want to go with a thicker wetsuit that could limit their movement.
We know from experience that the more you kite, the more you're going to want to kite. If you're going to be kiting more, and in more weather conditions, it's time to get a good wetsuit.
IKO Members get access to great deals on partner-brand gear, including waterwear from NeilPryde. If you're going shopping  for a new wetsuit, check out the IKO membership benefits here. Deals on gear is just one of the great benefits that members can enjoy. 
There are two types of kitesurfers: those who pee in their wetsuits and those who lie about it. Which kind will you be?
***Bonus advice: Hood River, Oregon has long since been known as a wind mecca for windsurfer and kitesurfers. One of the local shops there did this helpful video about how to get in and out of your wetsuit. It's a great video, check it out!