Electric bodyboards for water rescue
Author: Marica Moda
A new and different way of using a bodyboard! From now on, IKO Centers can use electric bodyboards for rescue!

The world of water sports and outdoor recreation has been transformed by electric boards - new electric battery technologies combined with watertight board structures.
The way of being in the water and the way of using this equipment is changing. Different types of electric boards, such as bodyboards, SUP boards, surfboards, or hydrofoils are expanding.
Let's take a look at them together—you might just find that they're right for you!
What are electric boards?
We start with two types of electric boards: the electric hydrofoil and the electric surf.
Electric Hydrofoil
It's a surfboard with an underwater electric propeller drive, which allows you to surf suspended above the surface of the water by simply controlling the motor through wireless remote control.
This board is composed of several parts:
The board, inside is the battery, which is removable, and waterproof.
The vertical support, known as the "mast," which supports the board, to which the propeller is attached.
A larger horizontal underwater fin mounted parallel to the board.
A second underwater fin positioned on the tail.
The fins and propeller are what allow the electric hydrofoil to remain suspended, thanks to an intelligent system of fluid dynamics.
The size of the board varies the performance: bigger boards are more stable and suitable for beginners and those who already have some skill, but are less maneuverable; smaller boards are perfect for those who are already experienced and want higher performance, with faster changes of direction and greater top speed.
Electric Surfboard
The hull of the board is characterized by an innovative design, different from traditional surfboards, with better hydrodynamic performance.
In some models, the surfer holds a cable connected to the bow of the board, which acts as an accelerator. In this way, the propulsive force can be modulated according to preference and need. In other models, there are no cables connecting the surfer to the board, but communication is made via a wireless connection of remote control that the surfer holds in his hand and which allows them to adjust the speed.
An electric surfboard can reach up to 70 km/h or 43.5 mph in the most powerful versions. The motor uses an electric propulsion system that is fully integrated into the board, producing near-zero-emissions and noise, and can be installed on short and long wave surfboards or SUP boards.
Let's take a look at some of the electric bodyboards on the market
There are a number of companies that produce electric bodyboards. They include Kymera, Lampuga, Asap Water Crafts, and Seabob-Cayago AG.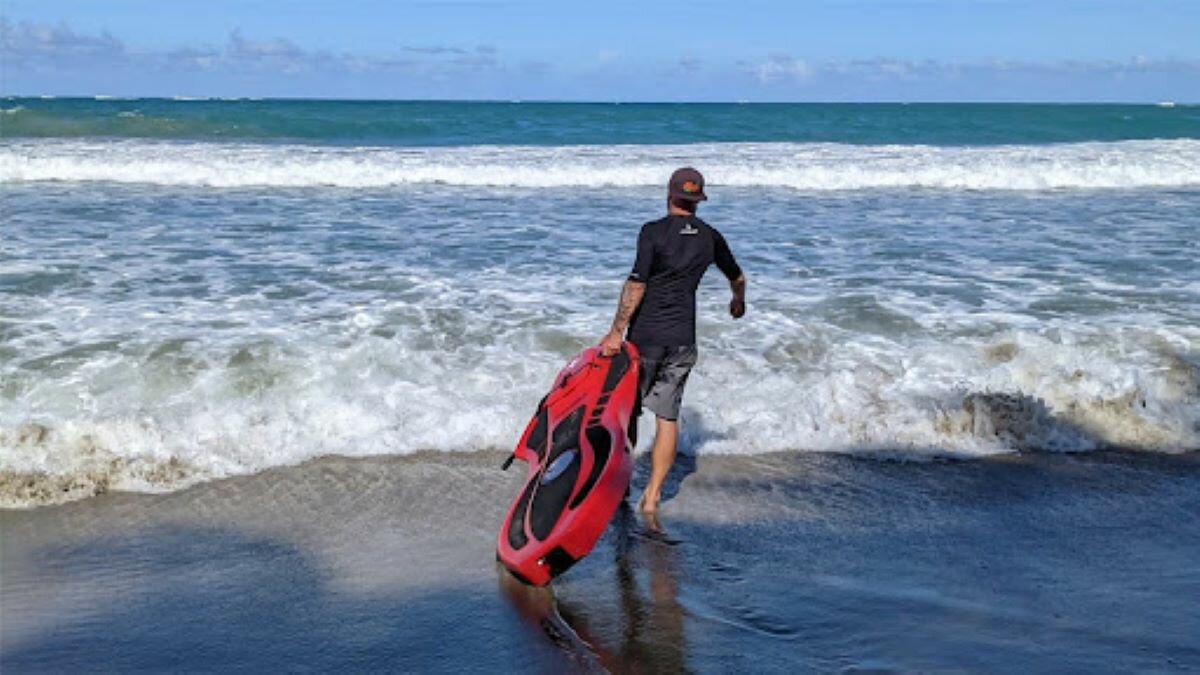 Kymera Bodyboard 
It's an example of an electric bodyboard that has changed its shape (and therefore its use) by combining a jet ski and a bodyboard.
Originating in California in 2011 thanks to Jason Woods, who wanted to eliminate many obstacles linked to boats or jet skis, both in terms of space and cost, such as their heaviness, towing, launching, and storage.
It's an affordable electric bodyboard, fairly light, very durable thanks to its rigid structure, easy to transport and take on the water, and environmentally friendly due to its electric propulsion.
The main features of this electric bodyboard are:
Sustainability: it minimizes the impact on the environment and is extremely cost-effective because it doesn't require much maintenance.
Simplicity: it's easy for everyone to use, even those who have little experience with boards in the water, in small to medium winds and waves.
Speed: it's controlled by means of the trigger; pressing it lightly accelerates the board decisively and fluidly until the desired speed is reached and maneuvers are carried out using the transfer of body weight to the right or left.
Efficiency: it can reach 40 km/h or 25 mph.
This electric bodyboard is also proving to be a very useful tool for coastal rescuers. It's very popular and used by lifeguards, firefighters, and military personnel because its excellent performance allows them to reach beachgoers in distress very quickly and easily.
Lampuga
This company manufactures its boards in Rastatt, Germany.
It developed this technology with the aim of breathing new life into conventional surfboards, considering surfing to be a popular and fun water sport, but also one that is difficult to master and not suitable for everyone—thus offering a surfing experience to all riders regardless of experience level, age, or physique.
The Lampuga Air is an inflatable board that, thanks to the hand straps at the top, provides a secure grip and allows for agile maneuvering. In addition, the softcover of the board makes the lying position comfortable even when sailing in rough waters by cushioning any blows to the stomach and chest.
Lampuga Rescue, on the other hand, is a bodyboard that offers more specific performance for rescue, and thanks to its jet propulsion and shallow draft it can be used in waters as shallow as 50 cm.
The main features of these electric bodyboards are:
Sustainability: they minimize the impact on the environment.
Simplicity: they are easy to use for all riders regardless of the wind or waves. Speed is controlled through a handheld remote control, and maneuvers are carried out using bodyweight transfer.
Innovation: they have evolved traditional boards through innovative technological systems, resulting in boards that have good performance in terms of power, speed, and stability.
Asap Water Crafts 
It was the brainchild of Ross Kemp who, while studying Product Design at Loughborough University, spent evenings training with his rescue club where his passion for rescue equipment began. He saw the opportunity to develop a quick-launching water rescue vehicle that could be used anywhere, by one person, reaching distressed beachgoers faster. Its models are called Wave Jam and Rescue.
The main features of these electric bodyboards are:
Quality: its boards are hand-built in the UK.
Innovation: they use the latest lithium-ion battery technology together with a customized high-performance Brushless motor. A Brushless Direct Current Motor is a "brushless" motor, i.e., a direct current electric motor (BLDCM) with a permanent magnet rotor, which, unlike a brush motor, doesn't need any sliding electrical contacts (brushes) on the rotor shaft to operate.
Efficiency: they have incredible power and lightness.
Sustainability: they are environmentally friendly and extremely cost-effective to run due to their very low maintenance.
Seabob-Cayago AG
It's an electric bodyboard produced by the technology company Cayago AG based in Stuttgart, Germany.
Cayago AG offers a high-performance electric board powered by modern electric technology, making an exceptionally environmentally friendly and high-quality product.
Their motto is "High-performance technology Made in Germany," through innovation and quality down to the last detail.
The main features of this electric bodyboard are:
High technology: it's built with high-quality carbon components, ceramic coatings, and precious metals that are resistant to seawater.
Quality: it's handmade with first-class materials and attention to detail.
Innovation: the high-performance electric drive is an exemplary innovation. The energy is released by high-performance High-Energy lithium-ion batteries and has a synchronized "high-torque" drive with a three-phase Sinus-Power-Management controlled by a microprocessor. The motor is very compact and has outstanding energy efficiency.
Sustainability: it has zero emissions using the principle of water volume displacement. In fact, the water is sucked up by the powerful turbine and is pushed into the jet channel outwards with high pressure, generating a large thrust force. It's environmentally friendly and extremely cost-effective to operate.
Practical: the central cockpit consists of a color display, which is exactly in the driver's field of vision, allowing him to easily view all important technical data (driving performance, power, battery level, immersion depth, and temperature).
Using electric bodyboards for water rescue: why is it a good idea?
These bodyboards can prove to be very useful tools for rescuing people in the water.
They're all designed to be easy to carry, even by a single person, to be launched immediately into the water for rapid rescue, and to be steered by a single rescuer who can use only one hand to steer while being able to help and hold the rescued person with the other hand.
In addition, they all have great performance in terms of speed, a fundamental element for successful rescue in water.
What are the best spots for using electric bodyboards in water rescue?
Generally speaking, these types of electric bodyboards can be very useful in all those spots where the water is flat or not very choppy, but not only that, they can also be the perfect solution for all those spots that are in Nature Parks or Protected Nature Areas where motorized vehicles are absolutely not allowed. In these spots, they prove their effectiveness not only thanks to their fantastic ecological characteristics but also thanks to their silence, as they don't disturb the local flora and fauna at all.
They are useful in those spots with shallow water or where there are coral reefs and rocks underneath, i.e., places not suitable for a rescue boat. In fact, their shallow draft makes them perfect boards for navigating or passing these natural elements without harming them.
How to use electric bodyboards to rescue a kiter?
On the beautiful beach of Cabarete in the Dominican Republic, Examiner and Training Master Vincent Herbillon and Assistant Trainer Guido Ruzzenenti personally tested the Kymera Bodyboard in order to better evaluate its effectiveness and suitability in rescuing a kitesurfer and their kite.
After a quick demonstration by a Kymera representative, Vincent and Guido were able to simulate a real emergency situation of a kiter in trouble in the water by starting to do the self-rescue procedure.
Report on the IKO Training Department's test of the Kymera Bodyboard:
"What was your first impression?"
The bodyboard is easy to handle, so it can be used by anyone with some knowledge of the sea and a little bodyboard/surfboard practice. In any case, even inexperienced people can easily and quickly learn how to handle it.
"How did you feel the first time you tried it?"
We found it fun.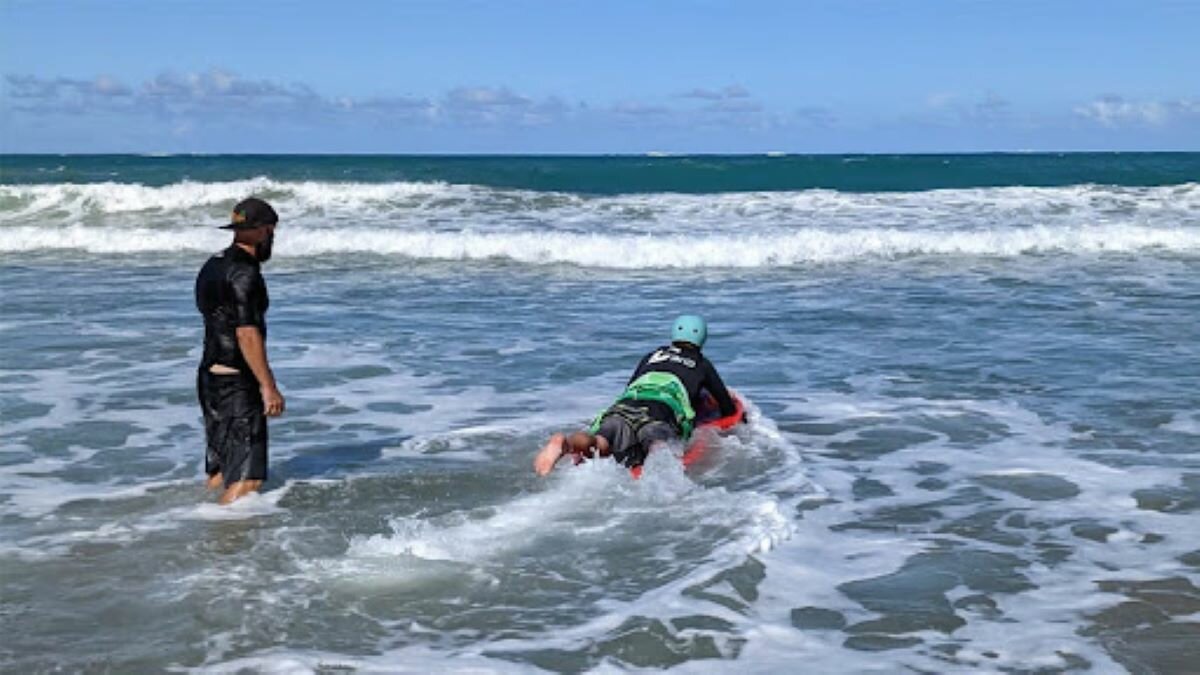 "What do you think of its use to help a kiter in distress?"
We tried to use it to rescue a kiter in distress who had started the self-rescue procedure, and managed to recover the kiter with all their equipment on a day when the sea at Cabarete was quite rough. With a little practice, its use would certainly become more natural.
In conclusion: approved!
"In which spots do you think it would be most useful?"
We think it's ideal for rescues close to the coast and especially for spots with shallow seas and small waves.
But if the pilot is a surfer it can also be used in very rough sea conditions, thanks to the surfer's ability to read the sea and waves.
"Are you satisfied with the electric bodyboard as a rescue vehicle for a kiter?"
We're very satisfied with its use for rescuing a kiteboarder and their equipment, although the only downside we have found is that it's difficult to load the rescued person on board, so if the kiter is unconscious, it may be very challenging to rescue him—but it would still be possible.
For more extreme conditions, such as deepwater and rough seas, it's not as good as a jet ski or boat, but it's definitely better than a boat for getting through the waves to shore.
One big advantage is that it only takes one person to enter the water and rescue someone.
We are very satisfied!
Will the electric bodyboard be accepted in IKO Centers as a rescue vehicle?
Yes, the electric bodyboard will be accepted in all IKO Centers.
All IKO Centers must have a boat or a jet ski ready to rescue kiters in trouble. From now on, the IKO will also accept electric bodyboards as a vehicle of rescue. For all those kitesurf schools that are or will become IKO Centers, it is suggested to use these vehicles, especially to kitesurf schools in lagoons or protected nature parks where the use of a motor vehicle is strictly prohibited.
How do you save a kiter with an electric bodyboard?
Before talking about how an electric bodyboard can be used to recover a kitesurfer and their equipment, let's see how a kiter is recovered with the help of a boat so that we can make a comparison.
How do you rescue a kiter in difficulty with a boat?
While you are at a kiteboarding spot, you may need to rescue a kiteboarder with a boat even if you do not own a boat.
When seeing someone in trouble off-shore you should take the decision to help with the support of a boat from a third party (fisherman, tourist, etc.). In this situation, you should not drive the boat but guide its pilot, who knows how to drive a boat but may have no kiteboarding skills.
PROCEDURE: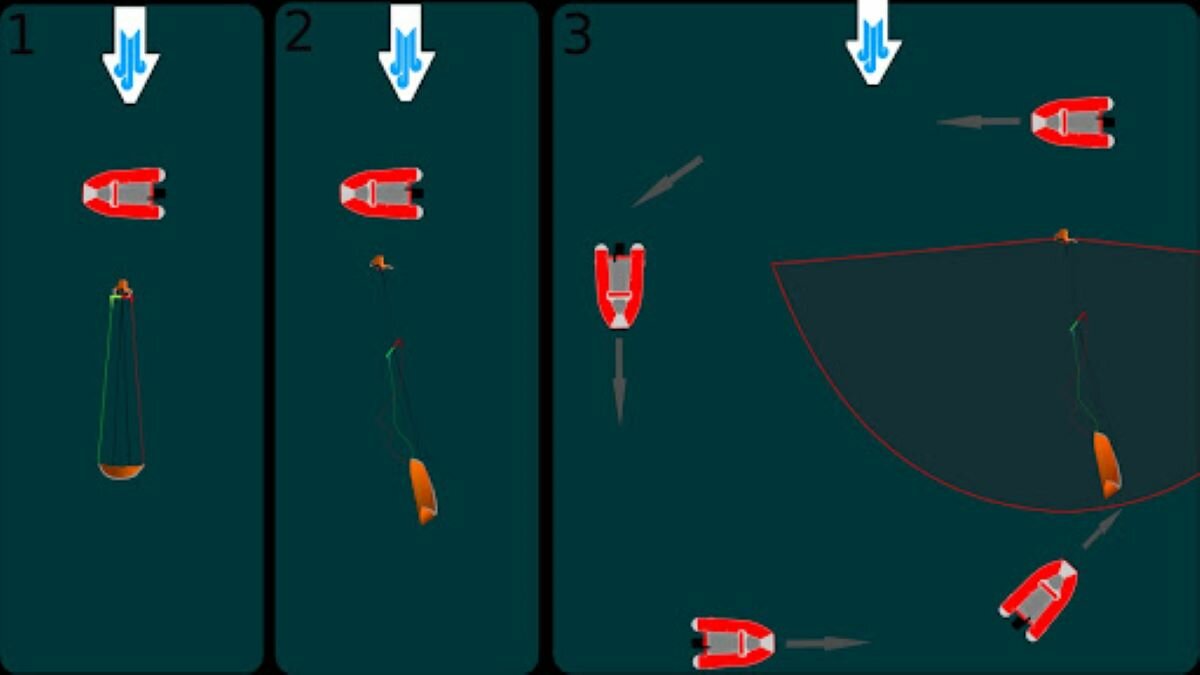 Remember to speak loudly and clearly to the pilot and ensure they understand your commands. There are many noises onboard, so communication is not always easy. Use keywords. KISS.
Go upwind of the kiteboarder and stop the boat at a safe distance from them (not less than 5 meters). Ask them how they feel and what the problem is.
If the kiteboarder is conscious, not injured, and only has equipment trouble, tell them clearly to let go of the bar and activate the chicken loop quick release. Tell them that they must wait in this position so you can first recover the kite and then come back for them.
Go downwind of the kite (use the direction of the lines as a reference point for this), passing well outside the wind window, then go upwind toward the kite at an angle of 45⁰.
Grab the leading edge, flip the kite over and deflate it as fast as possible. Tell the driver to stop the engine.
Fold the kite in 2, take the wing tips and roll the kite toward the deflate valve and put it in the boat.
Grab all the lines, pull them on board and put them into a bucket (if there is no bucket on board, put them between your legs on the floor and avoid walking on them). This will bring the kiteboarder to the boat.
Tell the kiteboarder to grab the boat, release their leash if they have not already, and help them to come onboard. Use their harness handle to help lift them in.
Wind the lines around the bar, close the valve, and secure the equipment.
If the kiteboarder is injured, they must be rescued and transported to a safe location before recovering the kite.
To avoid the kite or its lines causing further accidents, the rescuer must secure the kite. For example in one of the following ways:
Deflate the kite.
Attach the kite to an anchor or buoy using the leash, or directly to a front bridle, or the pump attachment point on the kite.
Have an Assistant take control of the kite and take it back to shore.
How to rescue a kiter in distress with an electric bodyboard?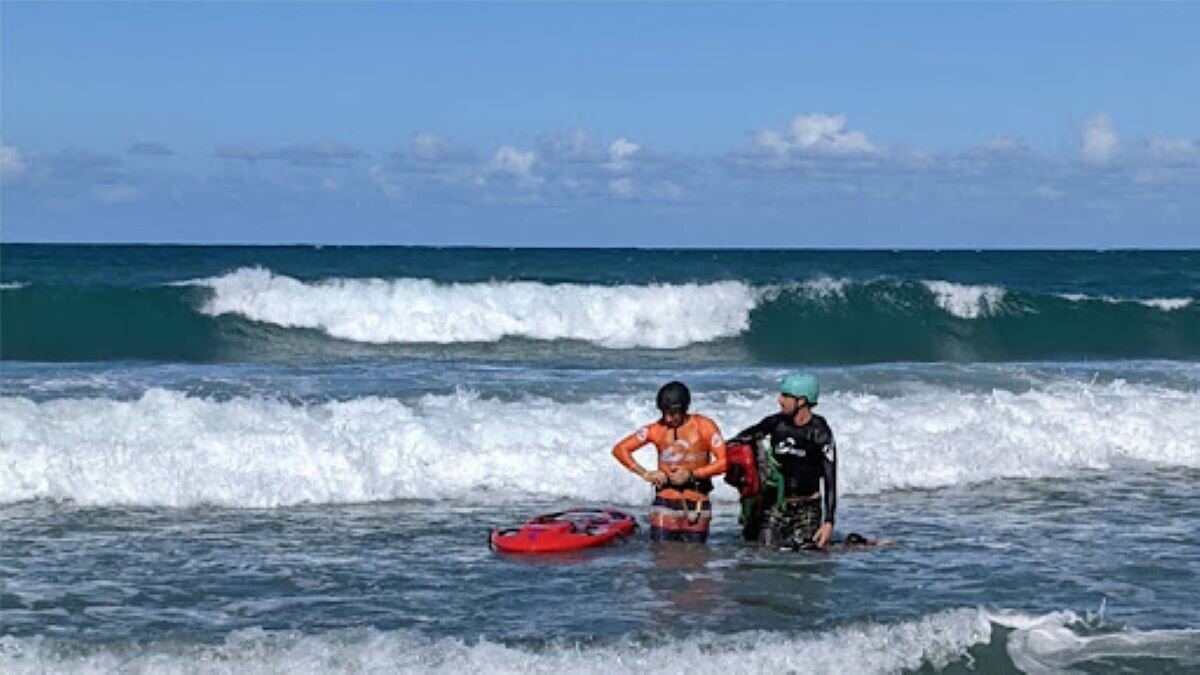 The approach to rescue is the same, but much simplified.
With this vehicle, the rescuer doesn't need an assistant. They can take the electric bodyboard and enter the water alone. In fact, thanks to its lightness, it can be easily moved and handled by a single person without that person needing to be sporty or particularly trained.
Instead, the use of a boat or a jet ski makes it essential to carry out the rescue with at least two people, and in some countries, it's necessary to have a license depending on the characteristics of the vehicle.
Once a charged battery has been inserted into the electric bodyboard, it's ready to be used without needing to worry about fuel—which must be checked daily when using a boat or jet ski.
In addition, it's very easy to drive. Once in the water you just lie on your stomach and use the acceleration system to manage your speed. You just shift your weight to the right or left to maneuver. The moment you stop pressing the accelerator, the propeller stops. With a little practice, it can become very natural to anyone.
The procedure for approaching and retrieving the kite and kiteboarder is the same as with a boat, only the support changes!
Rescue can be a very quick, simple, and effective procedure thanks to the use of these new electric bodyboards, so consider whether this is the right tool for your spot and kitesurf school.