THE COOLEST JOB: KITESURF INSTRUCTOR
FOR WOMEN, BY WOMEN 
By Elena Buetto & Giorgia Matteazzi
GO FOR IT.
GET IN THE GAME.
IT'S AN EXPERIENCE NOT TO BE MISSED.
Ask any female kitesurf instructor what they think their job looks like and every answer can be boiled down to these two words: SIMPLY AMAZING.
Kiteboarding Girl: Just like a regular girl—but much cooler.
Most of them changed their lives to have the best office views in the world, surrounded by good vibes, sharing their passion with others, and facing exciting challenges every day.
So, if you are considering turning kitesurfing into your full-time job, this is our suggestion: Go for it! Get in the game! It's an experience not to be missed and, if for any reason it doesn't work, you'll have a very cool story to tell. 
We've all been in your shoes.
With more and more women getting involved in extreme sports, we want to let you know that there are many other girls ready to welcome you to the sport and to share in the fun.
What I love most about this job is the opportunity it offers to travel and discover new places, coming into close contact with the local lifestyle and people. Through teaching kitesurfing, you get to spend your days on the beach, enjoy the energy of the natural elements, practice sports, engage in a healthy lifestyle, and always meet different and interesting people. What more could you want?
Martina
Together with @lagiokite, we interviewed some super girls teaching in all the best spots around the world—and we got something you ought to know.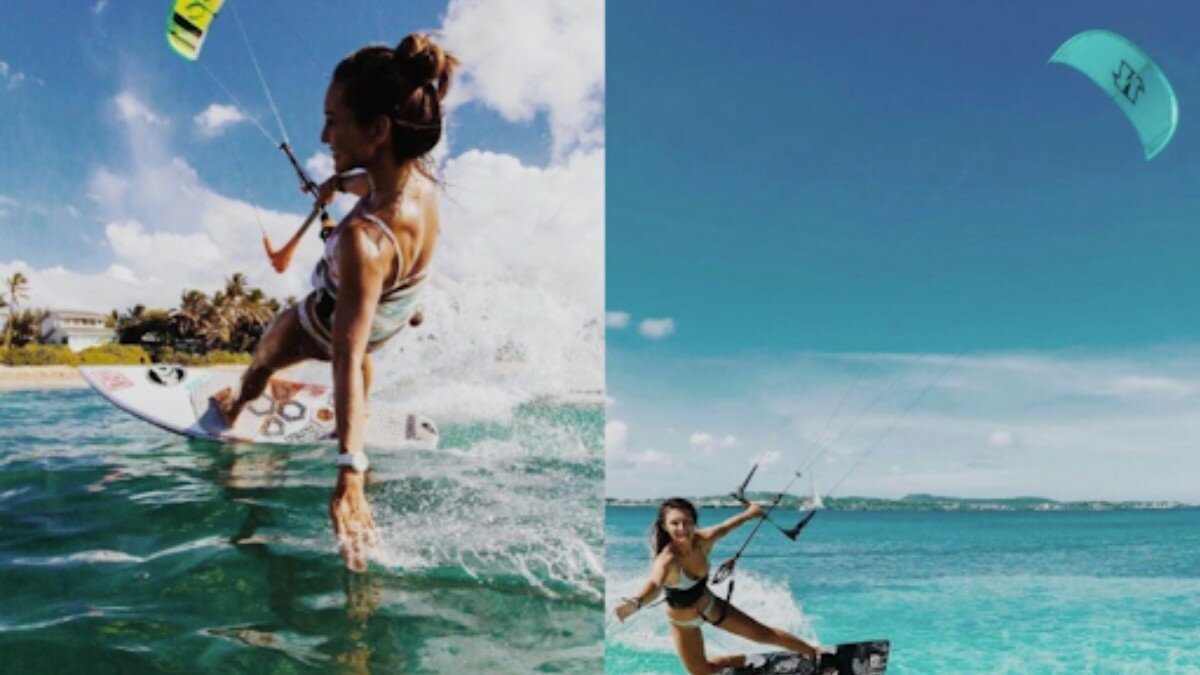 Kitesurfing is fun, but it's still an extreme sport.
Ladies (and men too), keep this in mind: no one is born knowing everything. We all need to be well-trained, as knowledge is power..
IKO, the International Kiteboarding Organization offers a worldwide professional training program.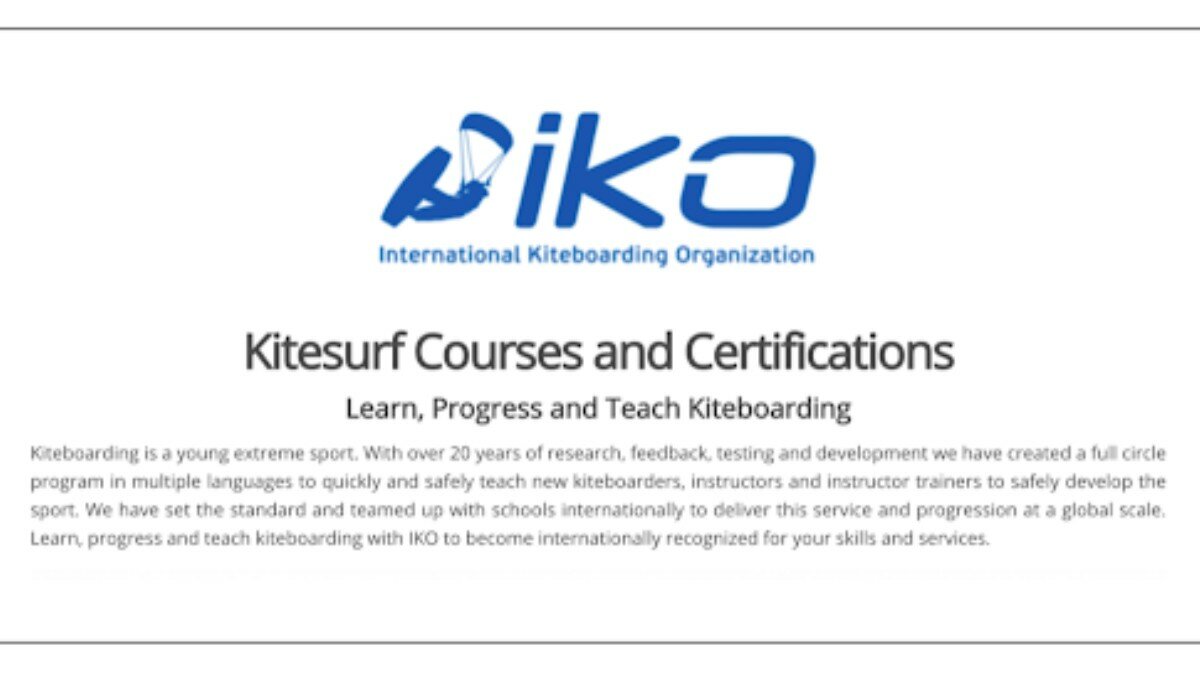 IKO – International Kiteboarding Organization
All of us need to learn how to teach kiteboarding in the safest way in order to avoid any potential dangers posed to ourselves or our students.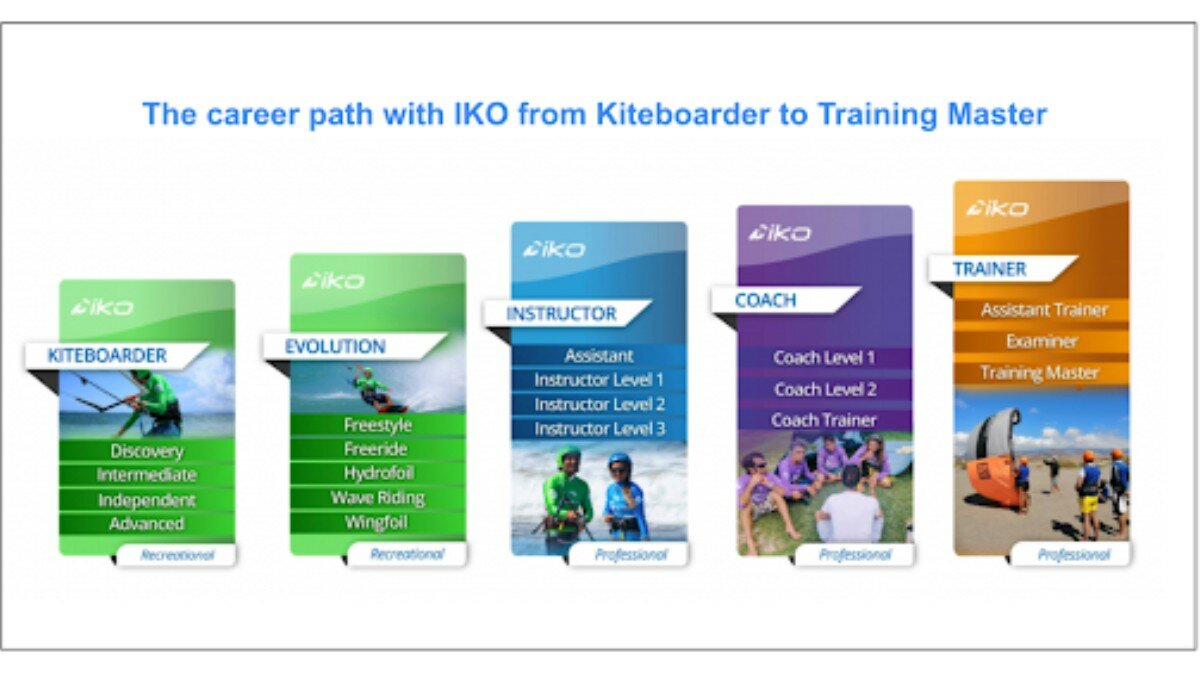 The IKO career path!
No strength needed.
90% of people think that they need strong arms to "hold" a flying kite. I'm sure that before learning about kitesurfing, you thought that this sport requires a lot of upper body strength. 
Girls, teaching kiteboarding is about passion, knowledge, communication, empathy, and a lot of patience. These qualities are essential to gain the trust and secure necessary attention from your students.
Often, men are physically stronger. But, as women, we can assure you that we learned how to compensate for any shortage of physical strength through technique. 
 Female instructors are exceptional because of our natural ability to multitask. We are generally very sensitive, have an innate ability to listen, and possess almost infinite patience (an essential characteristic in teaching).
We are precise, dynamic, tenacious, and technical—everything you need to be a professional kitesurfing instructor!
Marica
As Sara said, we need to be active women: athletic and ready to spend long hours walking on the beach (or in the water, if your spot is a lagoon). Giulia reminded us that it's physically demanding, but Giorgia has no doubts about the fact that ladies are clever enough to find smart solutions to make it easier.  
Wouldn't it be amazing to have a big community to share tricks and suggestions about kitesurfing? 
Kite instructor or psychologist?
As Sara reminds us, every person is different, so we have to focus on each student's individual needs. A good instructor must adapt the lesson according to circumstances: we are trained to help people do their best.
Giulia loves seeing people go from zero to hero, and she truly understands the ones that fight with determination as she was not immediately successful when she first approached kitesurfing. 
We completely agree with Chloe that technique and practice is just part of the work, as psychology plays a big role in learning to kitesurf, and our aim is to keep all students highly motivated, focused, and with the right determination to go on. 
All of this comes with the experience, but it's also the main part of the IKO training course.
And if something happens?
There are a lot of potential dangers involved in kitesurfing, and you will be exposed to some of them while participating in the sport.
Take it as an opportunity to become a more experienced instructor. Whatever seemed impossible before will become manageable through experience. 
Remember when I said that you, as everybody, needs to be well trained? This is what IKO trainers do: they teach you how to handle the unexpected.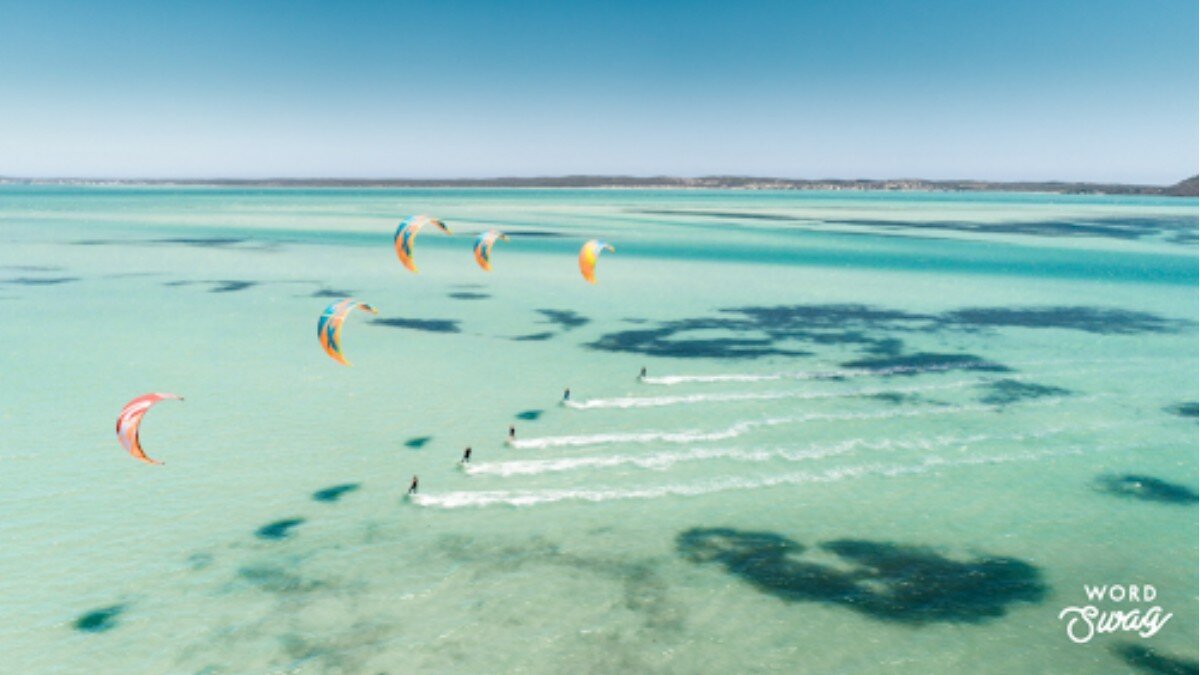 I love this job for so many reasons, but mostly because I get to enjoy the most beautiful office I could have ever asked for—and I'm kiting almost every day! The possibility of traveling to other stunning spots around the world is also incredibly alluring. I found teaching to be very satisfying as well. I get to meet many cool people, and it's always great to see my students progressing.
Basia
Internship 
After the trainee course, you might be required to complete some  internship hours in an IKO center.  This means that you give lessons to real students  under the supervision of an expert instructor. It's a unique chance to keep training and get more field experience while being led by somebody that can give you important advice and suggestions.  
Remember that we are part of an amazing community: kitesurfers watch out for each other in and out the water. Just think of all the help you'll have when it comes to launching and landing your kite!
While you'll be an independent instructor, this doesn't mean that you can't ask for your colleagues' opinions. Be humble and eager to learn from everybody. 
It's an amazing job! You will meet many other kiters and lovely people from all over the world. But be aware, you must love teaching and enjoy walking on the beach all day long. Plus, you've got to be a pretty patient human being!
Sara
So, NO cons?
We are used to being positive people, but we can't lie and say that everything is perfect.
Days at the beach can be difficult: strong wind and cold water in the winter make everything much harder for both instructor and student. Also, hot sunny days with warm winds are difficult to weather as well.
This is why it's very important to wear the right gear, protect our skin, drink a lot of water, use sunglasses, and ask for more suggestions from our instructor friends (who usually can't wait to share with you their own learned wisdom)! 
You should also know that you'll likely have to teach during the windy hours, so you'll miss the best wind and waves. We always suggest finding a way to ride for yourself so as to not to lose your passion for the sport—as well as take the time to recharge your emotional battery.. 
Women are underrepresented in kitesurfing.
We are so excited when our students are girls and women. It means we are contributing to the kitesista community. So, what are you waiting for? Don't hesitate to become a kitegirl instructor. You have the potential to inspire many other girls.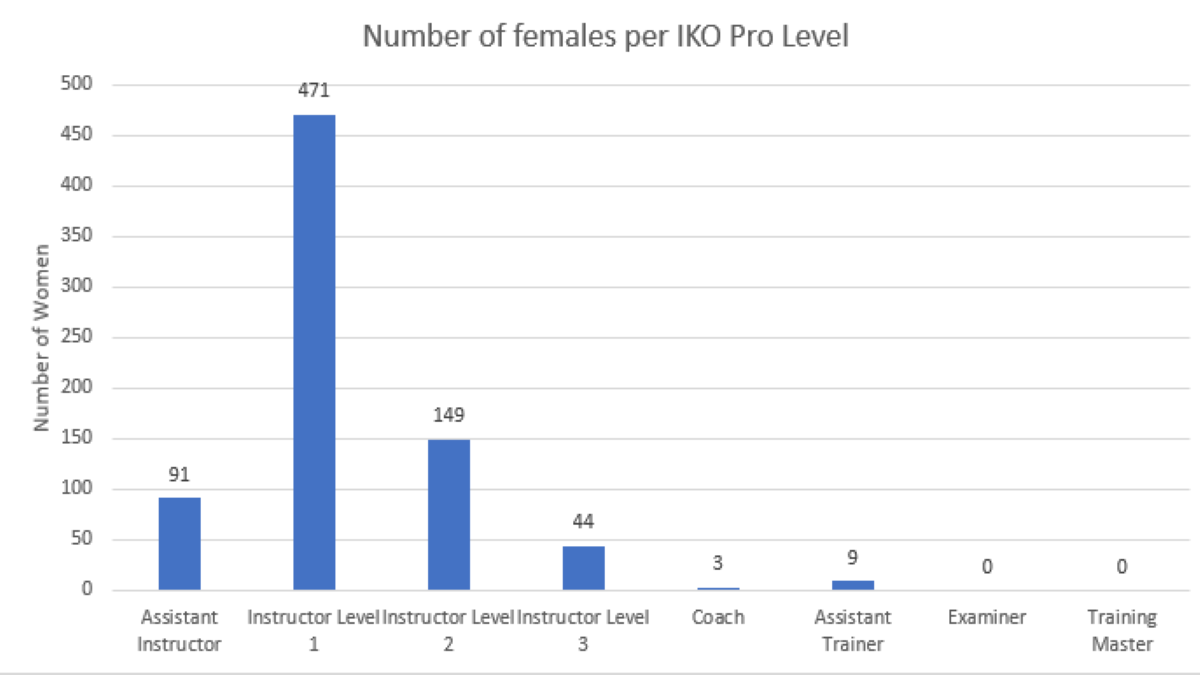 Data provided by IKO 2022
Don't underestimate yourself.
Push your limits, give your best, be confident, and trust in yourself. We got it, so you can get it too. Basia would say to just follow your heart and dreams and not to forget that girls can do anything!
Jump! Do it! And if you don't like it after, you'll always have a cool story to tell. Sharing your passion with others is a gift too!
Giulia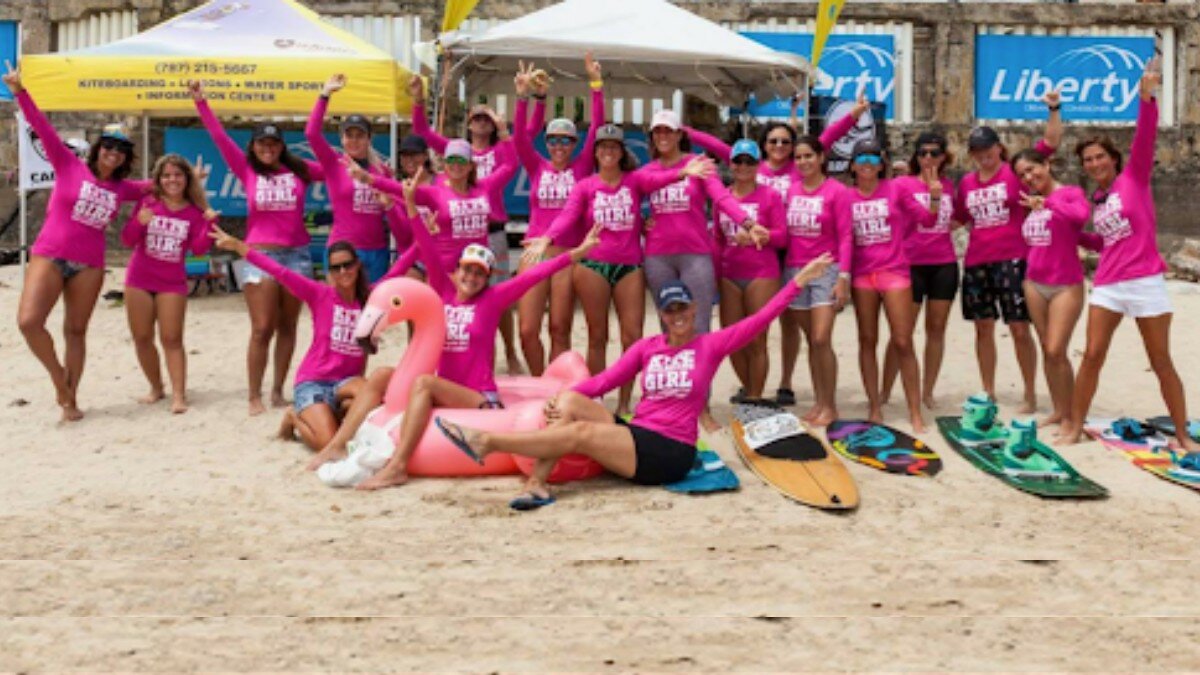 Let's Go Girlssssss!
Keep on reading for fun experiences shared by the women kite instructors we interviewed:
Basia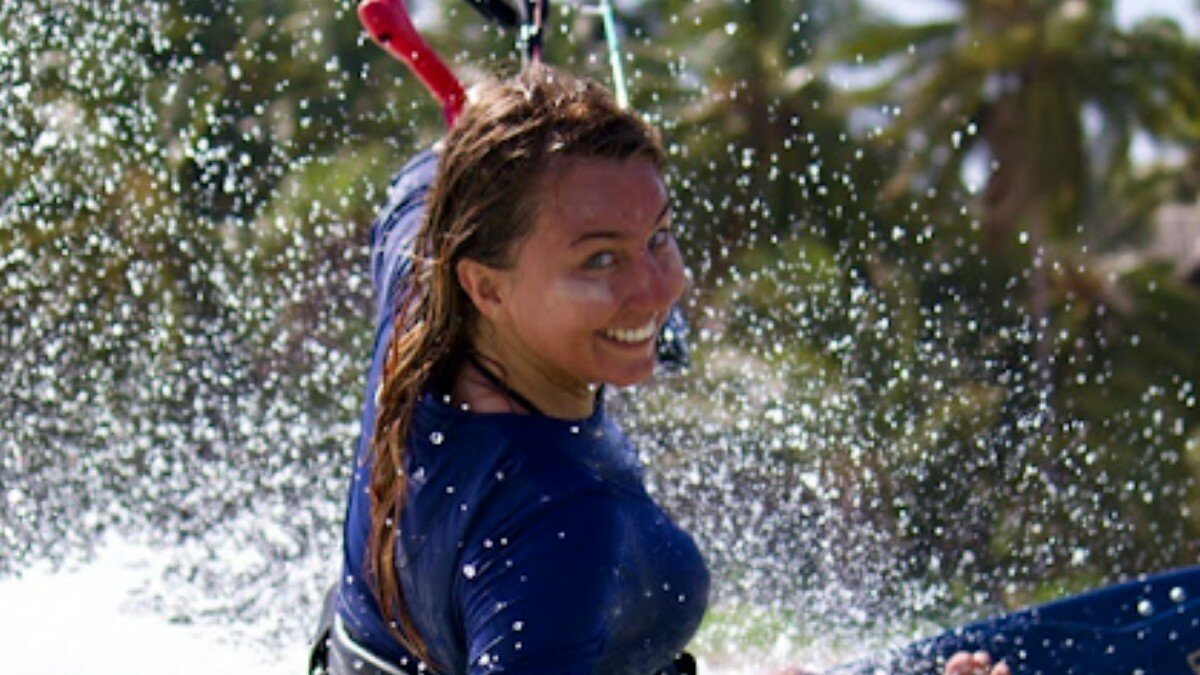 What's your name? Hi, my name is Basia
 How old are you? I'm 25 years old
Where are you from? I was born and raised in Gdansk, Poland
Your IKO level? I'm IKO instructor level 2
Funny story: This job never gets boring—another thing I love about it. I'm currently living and working in Kilifi, Kenia, which is not a very touristy place. So, from time to time you get to see local people herding their livestock on the beach. One time during my lesson I had to escape into the ocean because a cow started running toward me, probably feeling threatened by the kite I was holding.
Insta: @basianiez
Giulia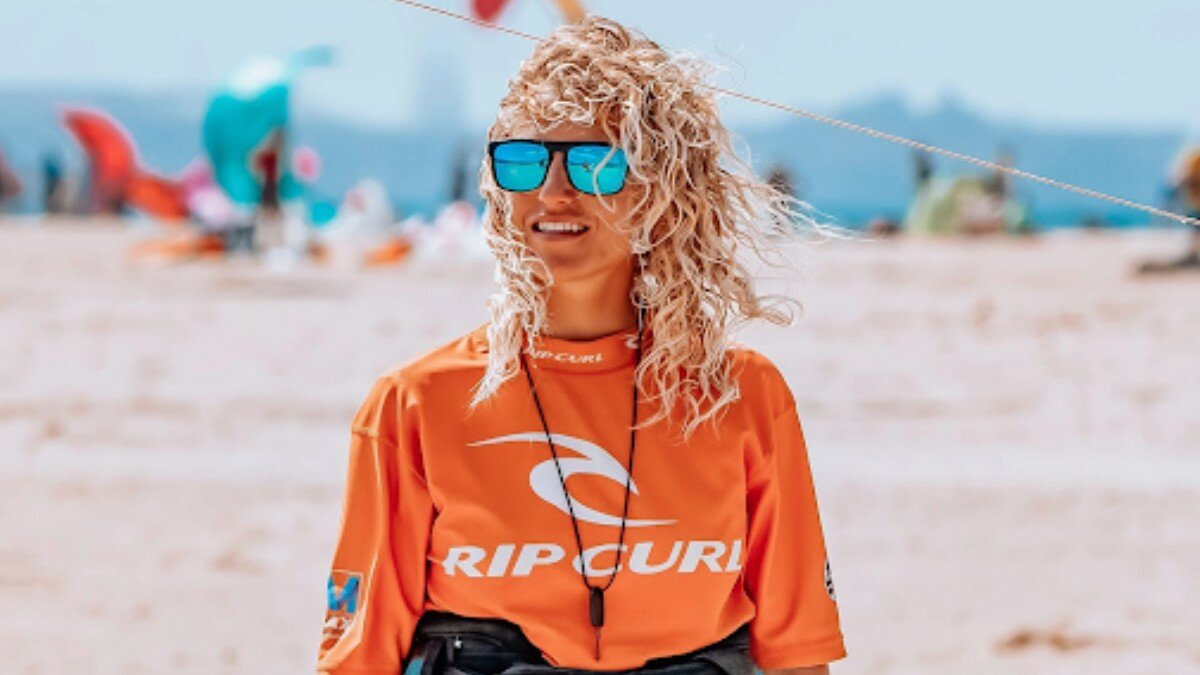 What's your name? My name is Giulia
How old are you? I'm going to turn 30 in October 2021
Your IKO level? IKO level 2, really close to level 3
Funny story: One time I didn't share with my students that we were connected via radio communication. One student was setting up the lines downwind and she misplaced the bar. She was 20 meters from me and couldn't hear my feedback with the wind, so I activated the radio. She didn't understand where the voice was coming from, got scared, jumped up, and did a 360-degree pirouette ending up with her bottom in the sand. We couldn't stop laughing.
Insta: @lulytakites
Chloé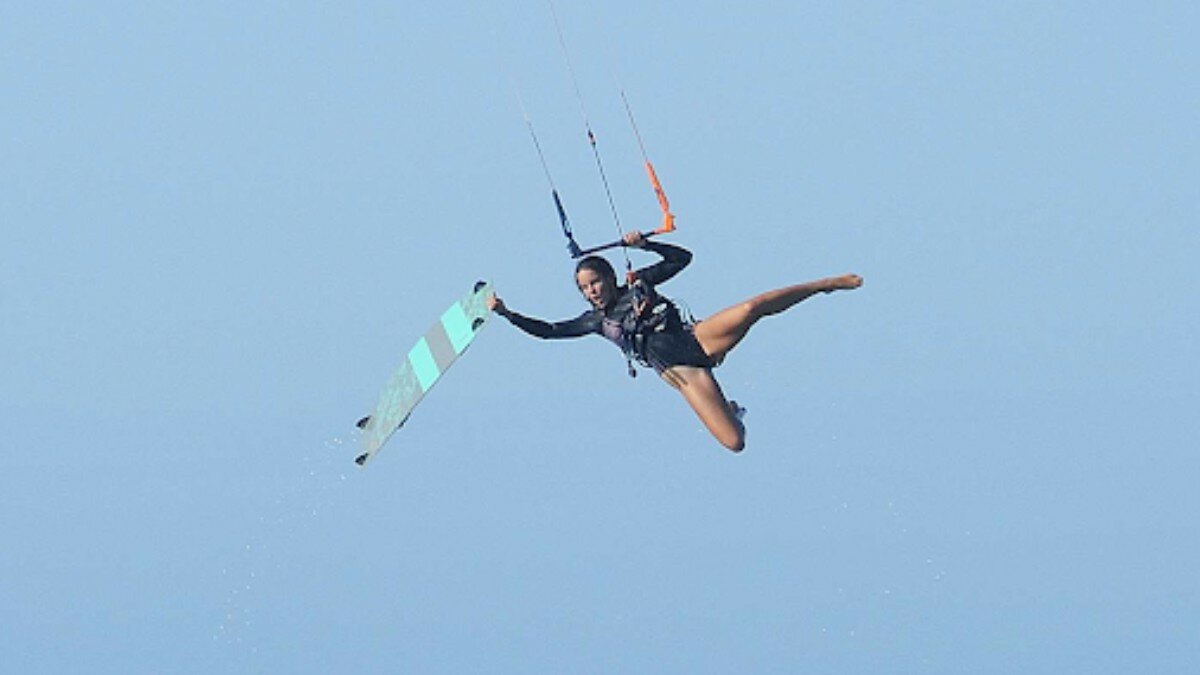 What's your name? My name is Chloé Rodriguez
How old are you?  I am 30 years old
Where are you from? I come from Grenoble in France. I come from a city surrounded by high mountains and after spending more than 20 years on the ski slopes I decided to change my environment
Your IKO level?
Funny story: I spent 10 hours teaching a student how to pilot the kite, safety system, and body drag. When it was time to start kiting, I showed him the water start! Super-enthusiastic, he goes away from the shore and tries his first water start. Unfortunately, he loses his board, and his reaction stunned me: he parked his kite on the water and disconnected completely from it before swimming to go get his board. I see the kite fly away, and I have to quickly jump in a boat to get it. When I returned I asked him why he did that, because before we had learned body drag, and he replied "I thought it was going to be faster." That's for sure! The lesson was very quick..
Insta: @chloe_rapanui
Sara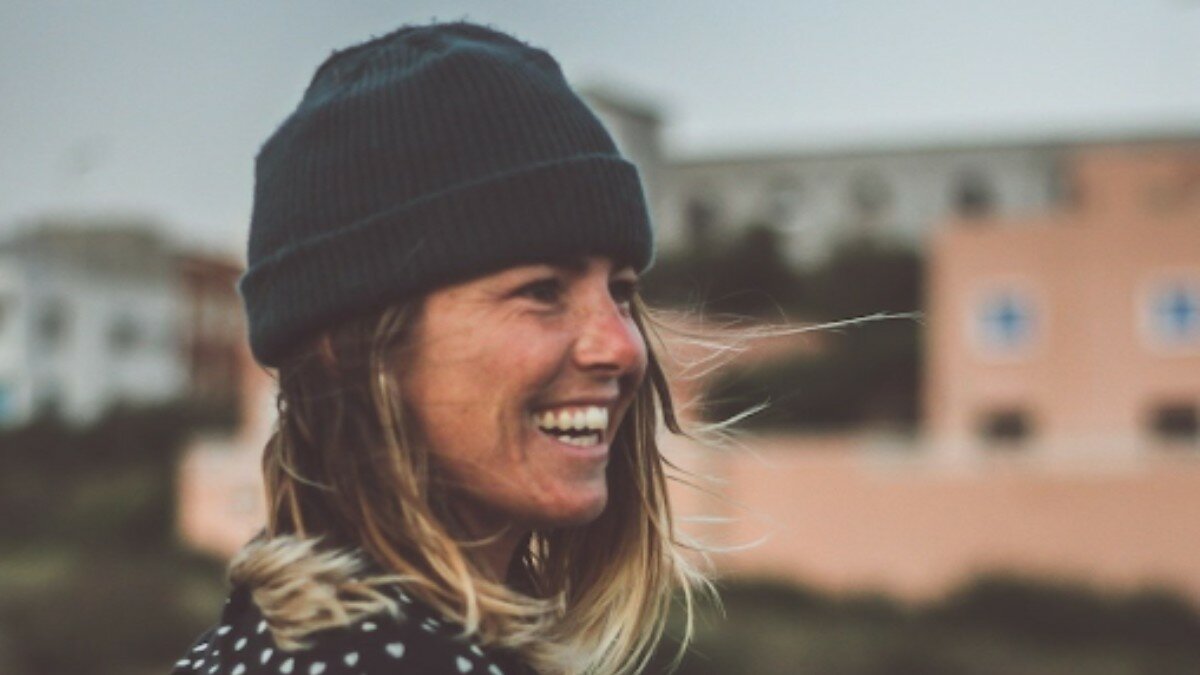 What's your name? I am Sara
How old are you? 33 years old
Where are you from? Italy
Your IKO level? I am IKO level 1, teaching and kiting since 2014. I've been teaching > 1500 hrs and > 200 students from all around the world
Funny story: I have many, many stories. I could have written a book/blog!  Back in Brazil three years ago I was doing assistance for a medium-distance downwind trip. You might think, WOW—but many things happened along the way and I had to fix everything somehow. A kite bladder exploded, and a board-strap too. A bootie almost got stuck in a river mouth resulting in huge cuts on a customer's feet…it's a nice job but sometimes things are very challenging (and funny)!
Insta:@starella Blog:www.lakitesurfista.com
Lucia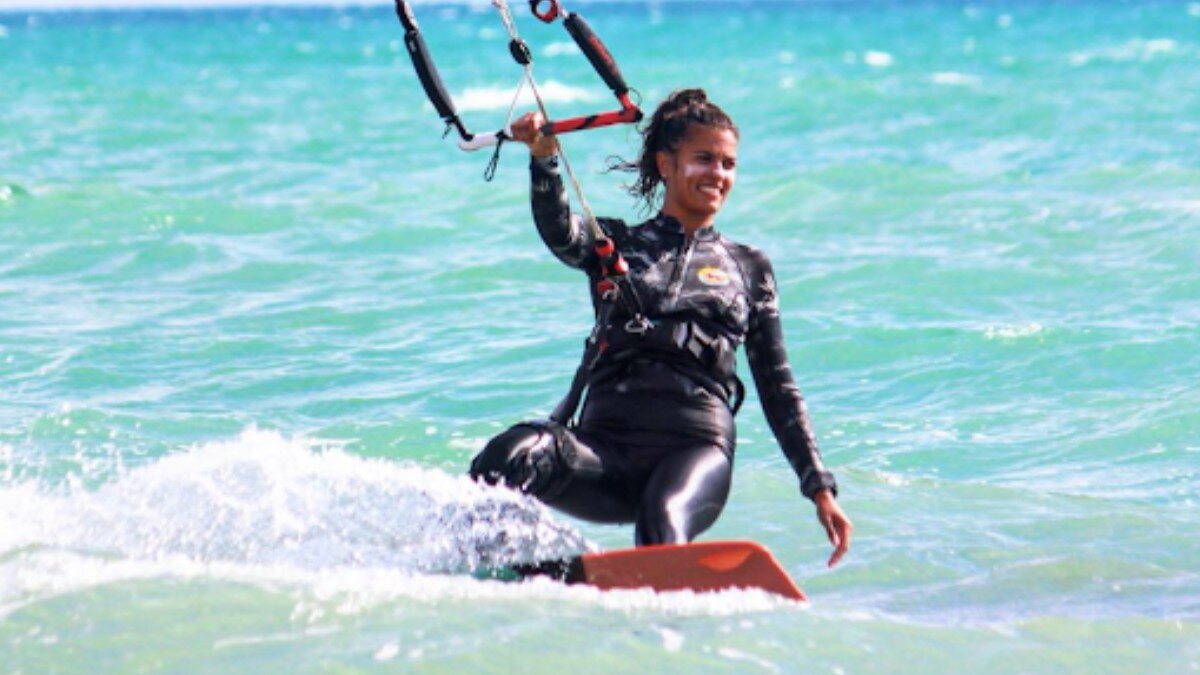 What's your name? Hello, I'm Lucia Sciuto 
 How old are you? I'm 29 years old
Where are you from? I'm Italian and I was born in Catania, in beautiful Sicily
Your IKO level? I'm an Instructor IKO level 1
Funny story: One of the funniest things that happened to me, especially at the beginning, was when I used the bb talking radios. Often, when I took back the kite and the board of my students upwind to the "waterstart" point, I forgot that they could hear me and while I was kiting and they heard me singing and having fun in the waves. LOL!
Insta: @lucia__sciuto
Beatrice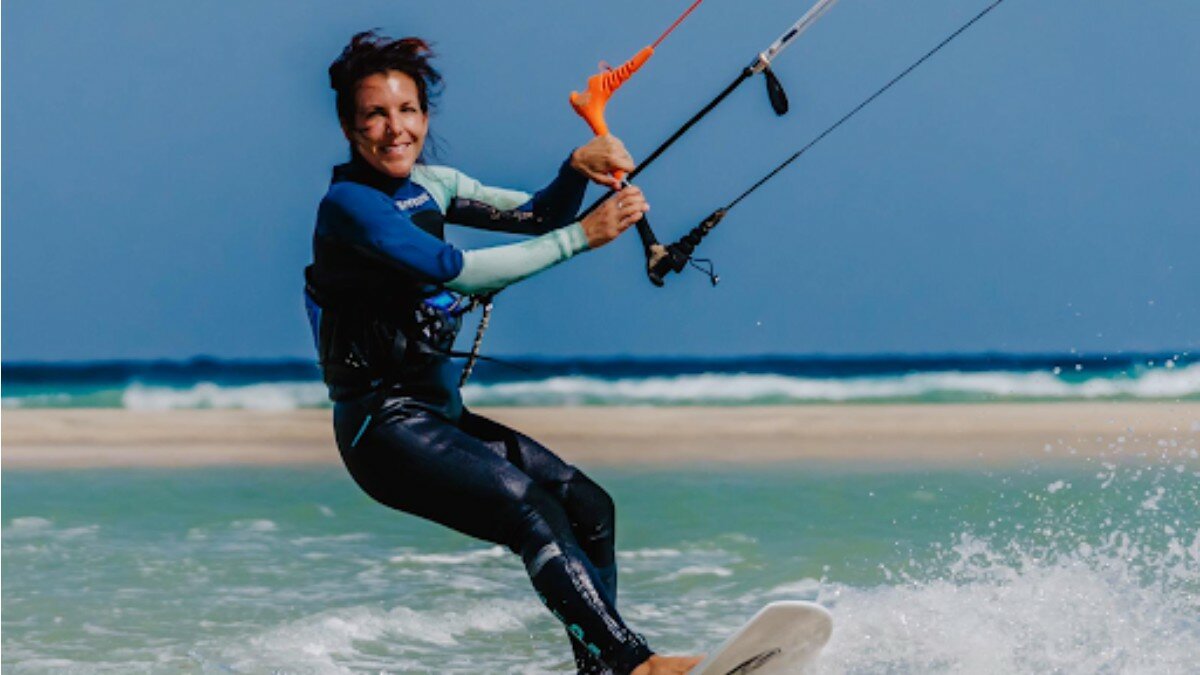 What's your name? Beatrice
How old are you? 36
Where are you from? Italy
Your IKO level? Instructor 1
Funny story: Funny things happen every day,  that's what makes this job interesting. Every student can surprise with absolute nonsense questions—and sometimes by acting super weird (like my last student trying to deflate the kite while lying on his belly... with the kite under himself )
Martina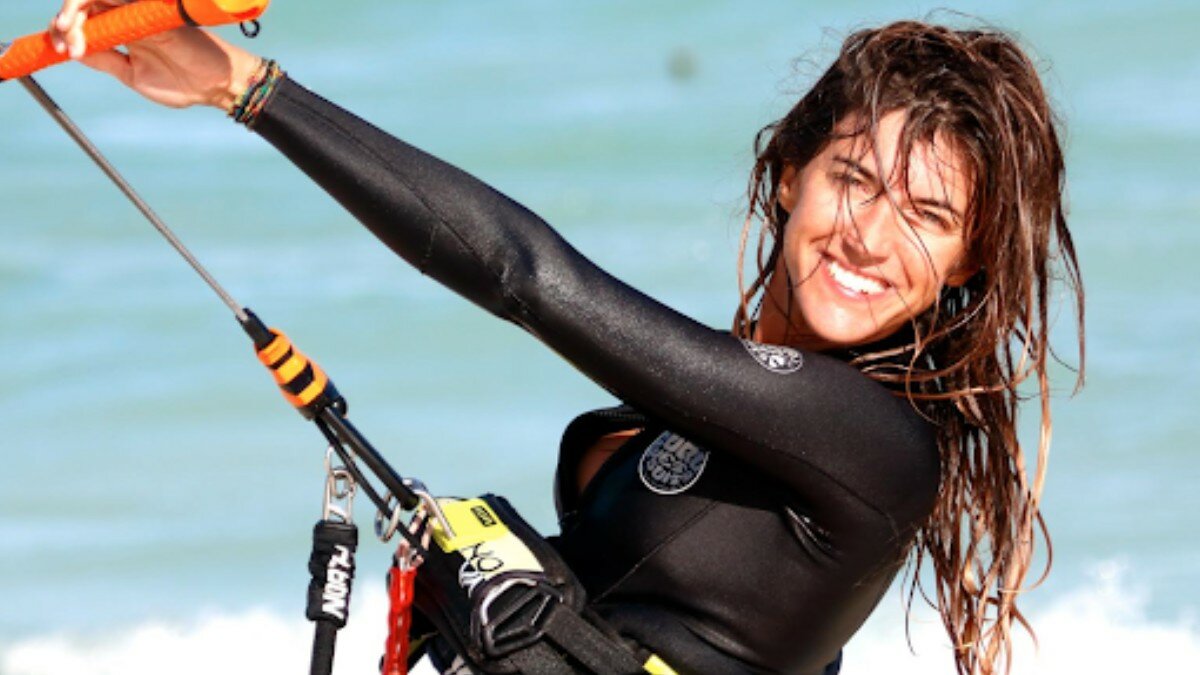 What's your name? My name is Martina
How old are you?  I am 30 years old
Where are you from? I am from Milan, Italy
Your IKO level? I am an IKO Instructor and Assistant Trainer
Funny story: My teaching experience is full of funny stories, little anecdotes that are the basis of sincere and lasting friendships. I remember a couple of beginners who asked my colleague and me to do a little challenge off the course. We were two teams (instructor + student), and at the end of 10 hours whoever had made the most progress had to take the other team out to dinner. The atmosphere was not tense at all. We all had fun and spent our lessons laughing and joking, involving others as well. How did it end? Offering dinner to two hungry men cost me and Lisa a little, but it was worth it!
Insta: @martina___brambilla
Megan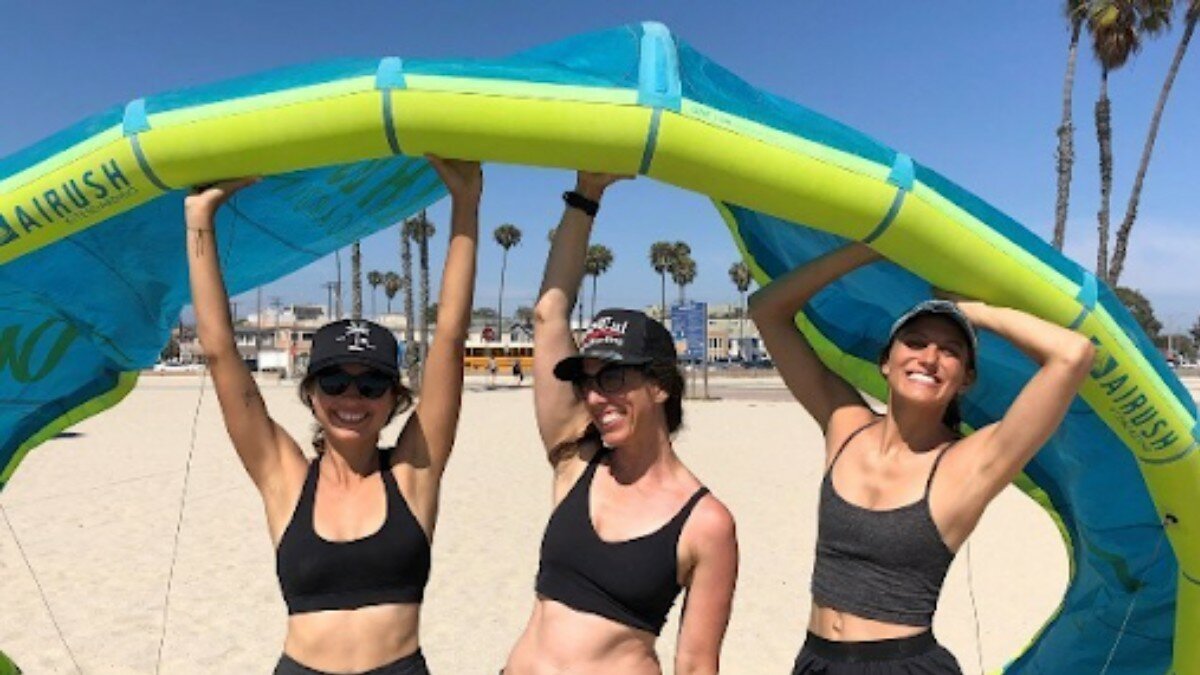 What's your name? Megan Frey, 
How old are you? Age 36
Where are you from? Originally I am from Orcas Island
Your IKO level? , Level 3 (just passed exam yesterday)
Funny story: Humor is the best for learning. Sometimes if a student is too worried, asking many questions or judging themselves for not understanding things quickly, before I answer them I'll dance to put a new vibe in the air, and then they laugh, I answer their question, and then they explore even more—and at the end of the day, they are way beyond where they were at the beginning.Insta:@frey.wellness Blog: www.freywellness.com
Marica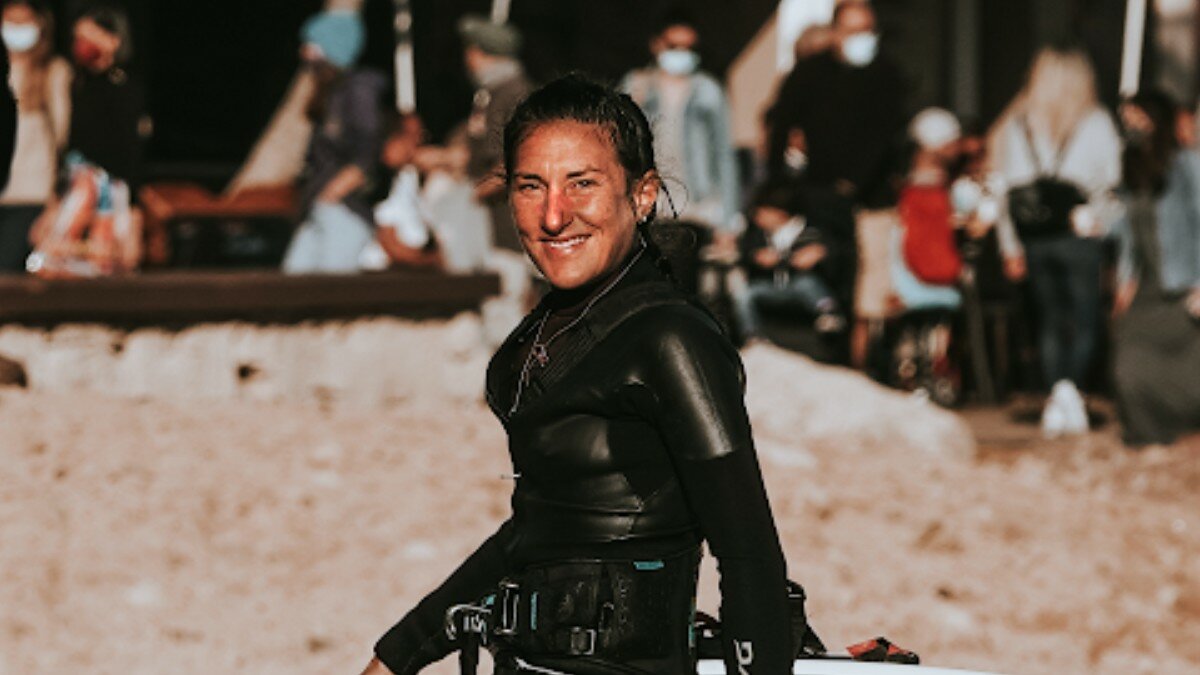 What's your name?  I'm Marica
How old are you? I'm 40 years old
Where are you from? I'm from Italy 
 Your IKO level? I'm an IKO Instructor Level 3
Funny story: An adult businessman on vacation with his children came to take a beginner lesson with me. He was a very sporty man, very tenacious, and determined to learn how to kitesurf. After struggling to make his first board, he looked at me with a face as enthusiastic as a child's and said: "That was so cool, no chemical drug can do the same!" We laughed until we cried!Insta: @marica.iko.instrutor Blog: www.senzalatte.org
Giorgia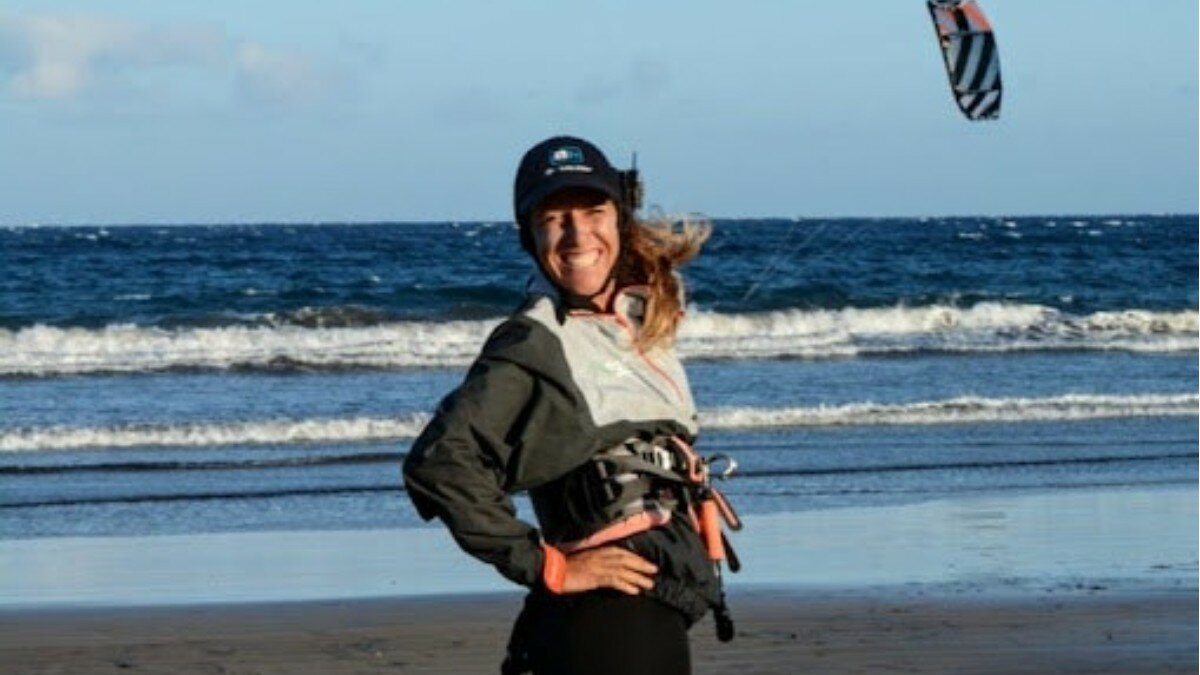 What's your name? Giorgia
How old are you? 34 (still 27 in my head)
Where are you from? Italy
Your IKO level?  IKO Level 3, hopefully soon to be an Assistant Trainer
Funny story: Once I had a student who weighed 120kg…just about double my weight. At a certain point during the lesson I had to take his kite and walk on the beach. Because I was flying away, he was holding me by the harness while walking so several people didn't know which one of us was the instructor and which was the student!
Insta:@lagiokite Blog: https://justkitesurf.com/
Thank you for reading! If you want to learn more about how to become an IKO instructor please don't hesitate to contact me via instagram: @lagiokite or via email: [email protected]
Ciao,
LaGio